Have you ever wondered why it seems like today's vaccine schedule is a bit different than when you were a kid? Well you're right. I grew up in the 80's, and the difference between the number of injections I received vs. today's recommended number is mind blowing…MORE THAN TRIPLE!!! Its odd that the recommended schedule went from 10 shots in 1983 to 36 shots in 2019. You would think that such a radical surge in vaccinations would be in response to major waves of outbreaks or some new life threatening diseases. Nope. None that I recall or can find through research. True, there have been some new vaccines to hit the market since 1983, but not enough to justify 26 additional shots. This short article from vactruth.com gives a very good visual breakdown of the history of vaccines from 1950 through today. Quite unbelievable.
History of Vaccine Schedule
414% Increase In Vaccines Given to U.S. Children
In 1950, your child would have received 7 vaccines by the age of 6. Let's fast forward to 2013.
If you follow the Centers for Disease Control and Prevention (CDC), American Academy of Pediatrics (AAP), and American Academy of Family Physicians (AAFP) endorsed annual childhood vaccine schedule, your child will receive over 36 vaccines by the time they are 6 years of age!
Will you over-vaccinate your child?
Before you see the dramatic increase in the vaccines given to children, please take a look at how many vaccines are given to children in the United States compared with other countries around the world.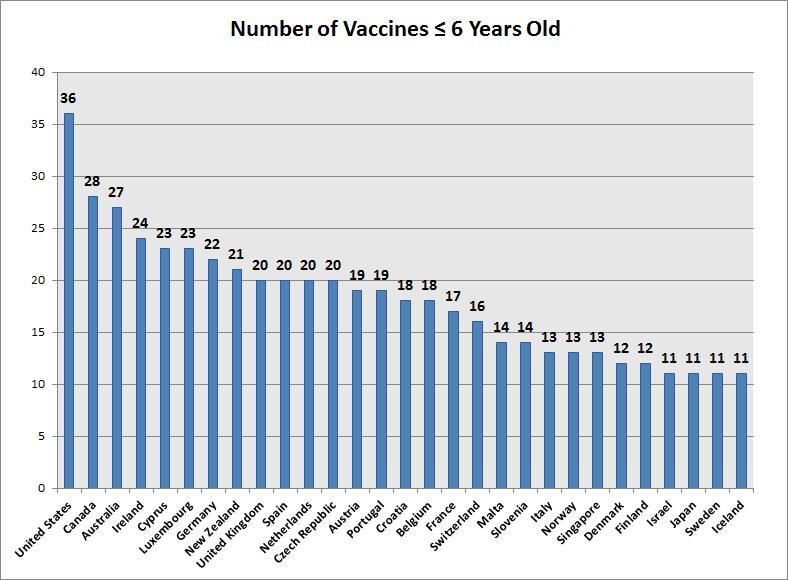 Year
Frequency
Number of Vaccines Given

Vaccine

1950
3 Months
1
Pertussis Vaccine
1950
4 Months
1
Pertussis Vaccine
1950
5 Months
1
Pertussis Vaccine
1950
6 Months
2
Diphtheria-Tetanus Toxoid
Smallpox Vaccine
1950
7 Months
1
Diphtheria-Tetanus Toxoid
1950
11 Months
1
Pertussis Vaccine
Total Vaccines for 1950
7
1974
2 Months
2
Diphtheria, Tetanus, Pertussis (DTP)
Oral Polio Vaccine (OPV)
1974
4 Months
2
Diphtheria, Tetanus, Pertussis (DTP)
Oral Polio Vaccine (OPV)
1974
6 Months
2
Diphtheria, Tetanus, Pertussis (DTP)
Oral Polio Vaccine (OPV)
1974
12 Months
1
Measles Vaccine
1974
1-12 years
2
Mumps Vaccine
Rubella Vaccine
1974
18 Months
2
Diphtheria, Tetanus, Pertussis (DTP)
Oral Polio Vaccine (OPV)
1974
4 to 6 Years
2
Diphtheria, Tetanus, Pertussis (DTP)
Oral Polio Vaccine (OPV)
Total Vaccines for 1974
13
1983
2 Months
2
Diphtheria, Tetanus, Pertussis (DTP)
Oral Polio Vaccine (OPV)
1983
4 Months
2
Diphtheria, Tetanus, Pertussis (DTP)
Oral Polio Vaccine (OPV)
1983
6 Months
1
Diphtheria, Tetanus, Pertussis (DTP)
1983
15 Months
1
Measles, Mumps, Rubella (MMR)
1983
18 Months
1
Measles, Mumps, Rubella (MMR)
1983
48 Months
2
Diphtheria, Tetanus, Pertussis (DTP)
Oral Polio Vaccine (OPV)
Total Vaccines for 1983
10
2013
Prenatal
1
Influenza (IIV)
2013
Birth
1
Hepatitis B (HepB)
2013
2 Months
5
Diphtheria, Tetanus, a. Pertussis (DTaP)
Haemophilus influenzae type b (Hib)
Inactivated Polio Vaccine (IPV)
Pneumococcal conjugate Vaccine (PCV)
Rotavirus (RV)
2013
4 Months
6
Hepatitis B (HepB)
Diphtheria, Tetanus, a. Pertussis (DTaP)
Haemophilus influenzae type b (Hib)
Inactivated Polio Vaccine (IPV)
Pneumococcal conjugate Vaccine (PCV)
Rotavirus (RV)
2013
6 Months
7
Hepatitis B (HepB)
Diphtheria, Tetanus, a. Pertussis (DTaP)
Haemophilus influenzae type b (Hib)
Inactivated Polio Vaccine (IPV)
Pneumococcal conjugate Vaccine (PCV)
Rotavirus (RV)
Influenza (IIV)
2013
12 Months
5
Haemophilus influenzae type b (Hib)
Hepatitis A (Hep A)
Measles, Mumps, Rubella (MMR)
Pneumococcal conjugate Vaccine (PCV)
Varicella (VAR)
2013
15 Months
1
Diphtheria, Tetanus, a.Pertussis (DTaP)
2013
18 Months
2
Hepatitis A (Hep A)
Influenza (IIV)
2013
30 Months
1
Influenza (IIV)
2013
42 Months
1
Influenza (IIV)
2013
48 Months
4
Diphtheria, Tetanus, a. Pertussis (DTaP)
Inactivated Polio Vaccine (IPV)
Measles, Mumps, Rubella (MMR)
Varicella (VAR)
2013
54 Months
1
Influenza (IIV)
2013
66 Months
1
Influenza (IIV)
Total Vaccines for 2013
36
References
Merck Manual 8th ed. Basic Immunization Schedule – Optional Schedule No. 1. 1950. pg. 1462.
2013 Centers for Disease Control Vaccination Schedule