If we can think for ourselves and take a close look at our healthcare system, it's a scary thing. One of the saddest components is in the realm of cancer. At a hopeless time in patients' lives, they should be able to turn to and trust the leading doctors at the industry's top hospitals. NOT THE CASE. We can't even trust their research. This article from draxe.com details how Sloan Kettering's Chief Medical Officer recently resigned amid findings about his dishonesty regarding his research, and ties to pharmaceutical and the healthcare companies. People's lives are at stake here, and this guy decides that padding his pocket is more important. Disgusting.
Chief Medical Officer from Memorial Sloan Kettering Reveals Conflict of Interest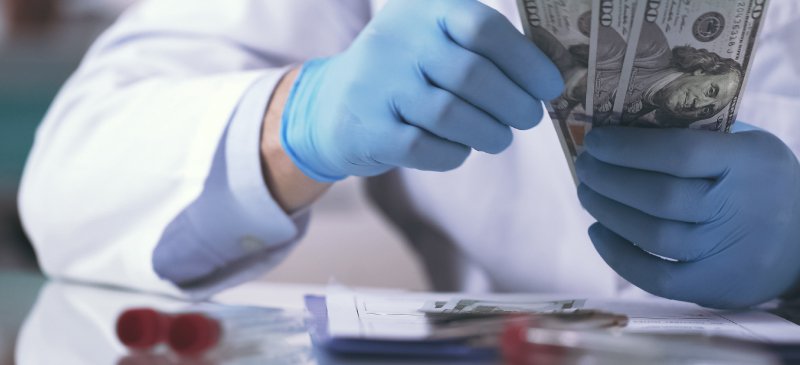 Dr. José Baselga, the chief medical officer of Memorial Sloan Kettering Cancer Center and the author of numerous scientific papers since 2013, has officially resigned his position at the highly acclaimed cancer treatmentand research institution in New York City. His resignation comes amid surfacing reports that he neglected to disclose millions of dollar he has received from drug and healthcare companies.

As ProPublica points out, "Baselga received nearly $3.5 million in payments from drug, medical equipment and diagnostic companies from August 2013 through 2017, according to Open Payments, a federal database that tracks payments to physicians from health care companies. "
---
Who Is Dr. Baselga?
Dr. José Baselga is considered an expert in breast cancer research who previously was the chief of hematology and oncology at Massachusetts General Hospital before transferring to Memorial Sloan Kettering in 2013.
One of Dr. Baselga's biggest medical achievements includes his participation in developing a drug called Herceptin, which is a type of "targeted therapy" often used in combination with chemotherapy for certain types of breast cancer, as well as gastric cancer. The drug company behind Herceptin is Genentech, a subsidiary of Roche (remember that name).
---
Memorial Sloan Kettering, Dr. Baselga & Industry Ties
Dr. Baselga was behind numerous studies published in medical journals in recent years. Even though his study co-authors disclosed their ties within the industry, Balsega reportedly did not specify his own noteworthy industry relationships — and it wasn't a one-time thing. He failed to disclose financial connections in about two-thirds of his articles.
For example, a few years ago in 2015, Dr. Baselga published an article in the New England Journal of Medicine featuring Zelboraf. This is a drug created by Roche, who also happened to sponsor the drug trial. Even though Dr. Baselga had known financial ties to Roche, he declared that he had "nothing to disclose" while 14 of his co-authors indicated their ties to Roche.
So, how did this seemingly well-respected and leading cancer researcher manage to get away with publishing in major medical journals without fully disclosing key information about himself and his ties in the industry?
According to Dr. Rita F. Redberg, the editor of JAMA Internal Medicine, the journal doesn't have the resources to regularly check on possible financial relationships of study authors. She says, "We rely on trust and integrity. It's kind of an assumed part of the professional relationship." Unfortunately, the honor system clearly failed in Dr. Baselga's case.
When researchers submit their work to major medical journals, they are expected to indicate any financial relationships that could conflict with their work. The general public as well as the medical community relies on disclosures like these so they can make their own judgment calls as to how biased or ideally, unbiased, the research study may be. It really becomes difficult to take the findings of a scientific study seriously if the authors disclose some questionable financial relationships, or in this case; they knowingly don't disclose them.
What exactly was Dr. Baselga not telling the public? According to The New York Times,
Dr. Baselga, a prominent figure in the world of cancer research, omitted his financial ties to companies like the Swiss drugmaker Roche and several small biotech start-ups in prestigious medical publications like The New England Journal of Medicine and The Lancet. He also failed to disclose any company affiliations in articles he published in the journal Cancer Discovery, for which he serves as one of two editors-in-chief.
In addition, the doctor's "extensive ties" in the industry include being on the board of the Bristol-Myers Squibb, a very large pharmaceutical company. Baselga is also the director of Varian Medical Systems, which happens to be the company that sells radiation equipment to clients like Memorial Sloan Kettering.
Dr. Baselga's resignation from Memorial Sloan Kettering was effective immediately, but he was given two additional weeks at the cancer center to "ease the transition."
What about the medical journals that published his work? According to ProPublica, "The New England Journal and The Lancet, as well as professional societies like the American Society of Clinical Oncology and the American Association for Cancer Research, said they were conducting reviews of Baselga's disclosure practices after inquiries from The Times and ProPublica."
Dr. Baselga says he will correct his conflict-of-interest disclosures in 17 journal articles, including articles that appear in The Lancet and The New England Journal. He also states in his recent resignation letter, "It is my hope that this situation will inspire a doubling down on transparency in our field."
---
Final Thoughts
We can only hope that this story of one man will inspire full honesty amongst study authors and also ignite a better checks-and-balance system within medical journals themselves. These scientific articles often influence the health decisions of the general public, and we all have a right to know if, for example, an author is promoting a drug while also getting paid by the company behind that drug.
Hopefully, Dr. Baselga's mistakes will truly lead to increased transparency in the medical community and more specifically, in medical research.