Today, there are many options for personal training beyond the typical in-person, one-on-one model. Two of the most rapidly growing sectors of the industry is online personal training and online nutritional counseling. The online nutrition aspect is easy enough for most people to wrap their head around, but online personal training can be a hard concept to envision. (Take a look at my Online Training Services and About Online Training pages to get a better picture of what I offer).
Most prospective clients ask questions like: "How will I know if my form is right?" or "How will I stay motivated to stick with the program?". Those are great questions. Many different online trainers will give many different answers. My answer to the first question is that form is the most important aspect of my in-person sessions, so it HAS to be the most i important aspect of my online training sessions. The software that I use has HD video demonstrations and detailed directions for each exercise. I personally monitor my clients form through live video sessions and I encourage my clients to email me as many videos of their form as they'd like. 
My answer to the second question is that I offer more support than any online trainer out there. I give my online training clients an hour and a half of phone sessions before their program even starts. After that, I offer weekly phone check-ins, unlimited texting, weekly email support, and video chats. 
If the online training model still seems a bit murky to you, this article from Self describes some of the do's and don'ts when it comes to online training:
Should You Hire an Online Personal Trainer?
It depends on your answers to these five questions.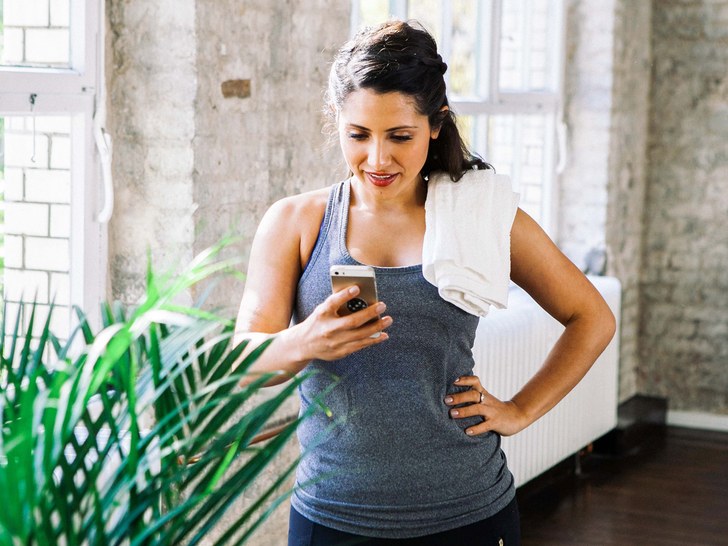 For many women, the prospect of working with a personal trainer is pretty attractive: customized programming, expert coaching, zero guesswork, and cheers through every rep and set. But the truth is that not everyone has the time or money to spend on working with a coach one-on-one.
Fortunately, more trainers are now offering their services through Skype, email, and online training platforms such as Trainerize—with a bunch of other trainers hosting online group fitness challenges through closed Facebook groups and apps such as MakeMe. Chances are, you're following at least one online trainer on Instagram right now.
But should you double tap to get fit? Short answer: It depends. After all, as a personal trainer, I work with some women in-person and others online. I even train some through a mix of the two, coaching them in the gym once or twice a week while also giving them customized online programs that they can follow at home in between gym sessions. Every woman has different wants and needs, and a unique workout personality—so what works for one woman might not for the next.
To figure out the right fit for you, and if you should take the virtual plunge, consider these five simple questions.
1. What do you want to pay?
Perhaps the biggest selling point for online training is cost. "The average trainer may charge around $70 to $100 for an hour-long training session, whereas if you buy a six-, eight-, or 10-week [online] program, you're paying anywhere from $100 to $200, depending on the coach," Baltimore-based personal trainer Erica Suter, C.S.C.S., who trains clients both in-person and online, tells SELF. "Either way, it is much more cost-effective to have someone write you a customized program and for you to execute it on your own."
The cost of participating in an online group fitness challenge typically ranges from anywhere from free to $100 per month, Hannah Davis, C.S.C.S., who trains clients in-person in her Tennessee studio while also offering group fitness challenges online, tells SELF.
2. How much instruction do you need?
When your trainer is in the gym with you, checking you out from every angle and giving you real-time feedback…well, that's a level of instruction you just can't get from online training, online strength coach and exercise physiologist Mike T. Nelson, Ph.D., C.S.C.S., tells SELF.
"From a technique aspect, online training is definitely better for people who already have some exposure to exercise and form," he says. "If someone is relatively new to training, I will tell them to go to the gym with a friend and to have that person take videos of them performing each prescribed exercise from different angles." This helps the trainer identify any trouble spots and figure out what coaching modifications need to be made due to poor ankle mobility, wobbly knees, or other issues.
What's more, many online trainers shoot and share exercise instructional videos to help coach safe and effective technique. "Some online coaches do a stellar job of instructing their clients from a distance," Suter says. "Be sure to search for an online coach who cares and checks in with your progress, as well as tweaks your program based on your needs as you go."
The nature of group challenges typically allows for even less oversight. "Challenges lack the ability for total customization," Davis explains. "So while I do my best to offer modifications and progressions, there will be exercises that are just not totally suited well for some and they may have to skip an exercise. It also does not allow for guidance while you work out to make sure you are working out efficiently and in good form. However, if someone has a question about form and posts a video, I will always critique it."
That said, some women have enough exercise experience to feel confident exercising on their own, and honestly don't want a trainer watching every workout. For those women, spending money on exercise cueing they don't need is unnecessary.
3. What trainers are available in your area?
"One benefit of online training is that you aren't limited by geography," Nelson says. "You can train with anyone you want in the world. Finding someone online who specializes in what you need is far easier than finding the same credentials within a 30-mile radius of your house."
This tends to hold the most true for women living in small towns with a limited number of gym-affiliated or independent personal trainers. Consider if you need pre- or post-partum training, have any other health conditions or past body image issues your trainer will need to fully understand and take into account, or if you're just really jazzed about working with someone whose work you have followed for years.
4. What motivates you?
Some people need the accountability and encouragement that comes with meeting with a trainer in person three times per week, Davis says. Others would rather revel in their time alone in the gym, and get all of the motivation they need from weekly check-ins with an online trainer. Still others want to get their motivation not just from their trainer, but also from other likeminded women who are going through similar fitness journeys—which is where online group challenges really shine.
Your needs and preferences are crucial when deciding how to train. After all, if you don't complete your workouts, it doesn't matter how expertly crafted they are. "You know yourself best," Davis says. She recommends being honest with yourself about what has and hasn't worked for you in the past.
5. How packed is your day-to-day schedule?
Online trainers can create workouts designed to perform at home, in the gym, or even outside. That way, you can perform them whenever, wherever, and aren't locked into working out according to your trainer's or gym's schedule.
"This flexibility is great for busy moms and students or anyone who has an unpredictable schedule," Davis says. After all, many personal trainers charge clients for last-minute cancellations.
Here's how to find the right online trainer for you:
If you decide to opt for some form of online training, the first thing to look for is a trainer's qualifications.
"Before hiring an online trainer, be sure to check their education, experience, certification, and reviews," Suter says. "Too often, people hire online trainers based on how many followers they have, instead of the actual work they've done for people. There are plenty of charlatans in the industry who do not have the necessary qualifications. As an example, if you're looking to be strong during pregnancy, it's in your best interest to find an online coach who has worked with a plethora of moms, and not a fitness celebrity who only posts selfies."
Look for certifications from large reputable organizations such as the National Strength and Conditioning Association, American Council on Exercise, National Strength and Conditioning Association, or the National Academy of Sports Medicine. If you can't find a trainer's credentials online, don't be afraid to ask for them. "Any professional that has studied their butts off for certifications will be happy to send a screenshot of every single one of them," Davis says.
All qualifications aside, ask questions such as, "How accessible will you be throughout the program?" "How will you customize my routine to fit my needs?'" and "How many clients do you have?" "These are important questions to ensure you aren't just another person with a cookie-cutter program that is blasted out to the masses," Suter says.
To start your search, consider asking for referrals from your friends, family members, or even your doctor. Check into any trainers whose blogs, articles, or workouts you already enjoy and have found useful. You can also run searches through nsca.com and acefitness.org, and verify certifications through nasm.org.
"Send messages to many," Davis says. "Don't stop until you've found someone who you truly 'jive' with and who fits your unique needs. It's worth it."